As you may have noticed I haven't posted a recipe for a while, I found out about 20 weeks ago that my husband and I are expecting again (yay!!) but, for me pregnancy isn't always kind. The first 16-18 wks were pretty rough with morning sickness making it hard to create recipes and cook things. Before getting pregnant I always had a loose meal plan of things to make and always set something out for dinner in the morning and knew what we would be having. Now my husband comes home and asks what's for dinner and I just give a blank stare because I was so nauseated I couldn't really plan to eat something until I was sitting down to eat it. But now that is mostly gone (hopefully for good) and I can get better at planning meals and creating recipes!
I never used to make breakfast a priority, the most important meal of the day is often the most skipped meal of the day. I used to work at 6 a.m. and the last thing I wanted to do was get up any earlier to make myself breakfast, so I would have my coffee in my car on the way to work with a granola bar, something that wasn't all that healthy or very filling. I would be starving a few hours later. Once I had my son I began putting food second and just ate things that I could eat one handed while rocking a snoozing baby in the other arm. Then as he got older I only seemed to eat when he was sleeping because it was just easier, but once I started looking into the Whole 30 program I realized I needed to get better about eating 3 whole meals a day; especially breakfast. So, I started making breakfast a priority and it really changed how I ate the rest of the day, I wasn't starving at 10 am and eating my way through snacks in the pantry. If I ate a healthy (big) breakfast I would stay full until lunch time.
I do not really meal prep much except breakfast, I find it's easier to get a filling breakfast in if I just have to heat it up or heat up ingredients and add a few cooked eggs to the top. My breakfast hash recipe is a staple for me and when I meal prep it lasts 3-4 days. I wanted to add another option to my breakfast routine, so I thought a frittata would be another perfect dish that I can whip up ahead of time and just reheat in the mornings. It's loaded with veggies and protein so you can start your morning off on the right foot.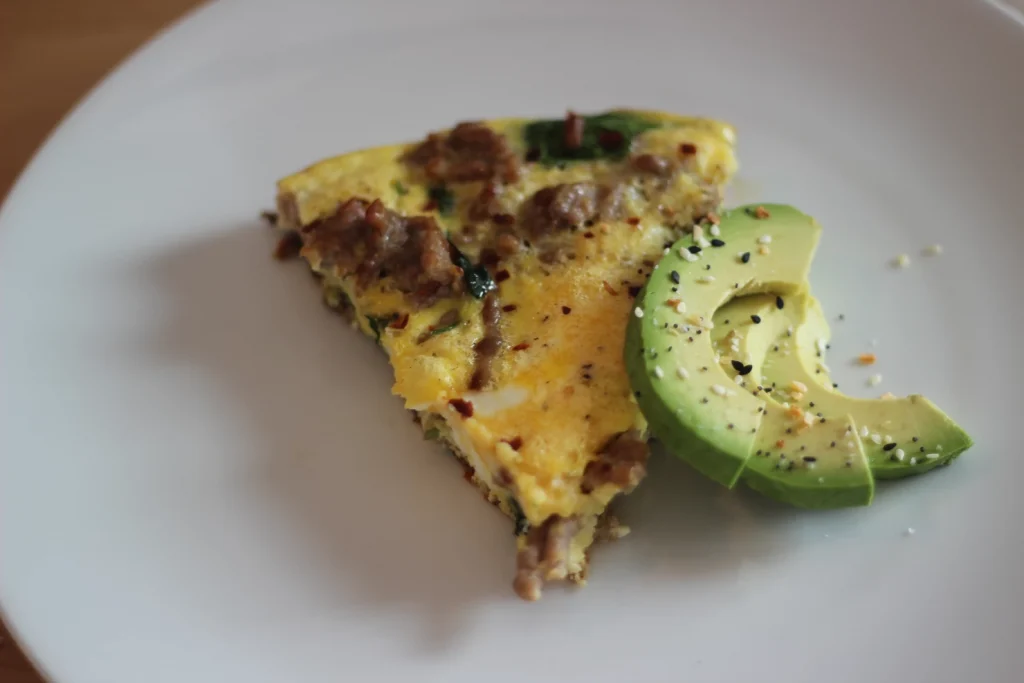 Whole 30 Sausage and Veggie Frittata:
Ingredients:
~ 1 lb. ground breakfast sausage
~ 1 cup mushrooms
~ 1 red pepper diced
~ 3 handfuls of Spinach (don't worry, it cooks down a lot)
~ 10-12 eggs
~ crushed red pepper
~ salt and pepper to taste
Directions:
1.) Preheat oven to 400. In a medium skillet (that is oven safe), brown the ground sausage on medium high heat about 8-10 min. Remove the sausage from the pan and set aside.
2.) Next add the mushrooms and red peppers. Sauté until soft about 5-6 minutes. While the veggies are cooking crack and scramble the eggs in a large bowl, add salt and pepper to taste.
3.) Next add in the spinach, it will look like a lot at first but spinach cooks down a lot.
4.) Once the spinach has wilted down add the sausage back in and spread out the mixture evenly to the bottom of the pan.
5.) Pour the scrambled eggs over the mixture and sprinkle the top with a little red pepper flakes (if desired). Let the eggs cook a little on the stove top until the sides are set and then place the pan into oven and finish cooking the eggs about 10 minutes.