Tuna has been a huge staple in my diet for as long as I can remember. When I was little my mom used to make it with mayo, pickles, and hard boiled eggs. I would pick out the pickles because I didn't know what the good part of life was. In college I was too lazy to make hard boiled eggs and buy pickles so I used to just put mayo and a can of tuna together. I would use crackers or chips as my tuna transport vessel until I learned about tuna melts, have you had a tuna melt? It's basically life changing and makes for the perfect lunch, especially when you have white bread and those cheap cheddar cheese slices… every college student's dream. I recently introduced my husband to my old school tuna melts because he apparently had been living under a rock and never had the chance to experience the goodness of a tuna melt.
With all that being said I have changed up my tuna melt game because well, that's not the healthiest thing one can eat. I've been trying to get back into that healthy eating mode, especially after having my second son, so I can lose (and keep off) the pregnancy weight, but also so I can feel my best to keep up with my two boys.
I switched up the way I make my tuna salad on accident because I wanted to have tuna for lunch one day but forgot we were out of mayo, so I scrounged my condiment shelves and found some Tessemae's ranch. I love this ranch because it isn't as thick as Hidden Valley, but has a really good flavor unlike some other "healthy" ranches I have tried. So I added that instead of mayo. I added celery, a hard boiled egg… and BOOM, a new tuna salad that has so much more flavor than just using mayo.
I also decided to serve it on sweet potato toast, as opposed to the normal white bread I normally would have. Have you had sweet potato toast, I am obsessed. Well, I am mostly obsessed with sweet potatoes, but I keep finding new ways to enjoy them and sweet potato toast is super simple. Definitely something you can make ahead and store in the fridge until you are ready to eat, and then pop in the toaster to warm up and voila ready to go!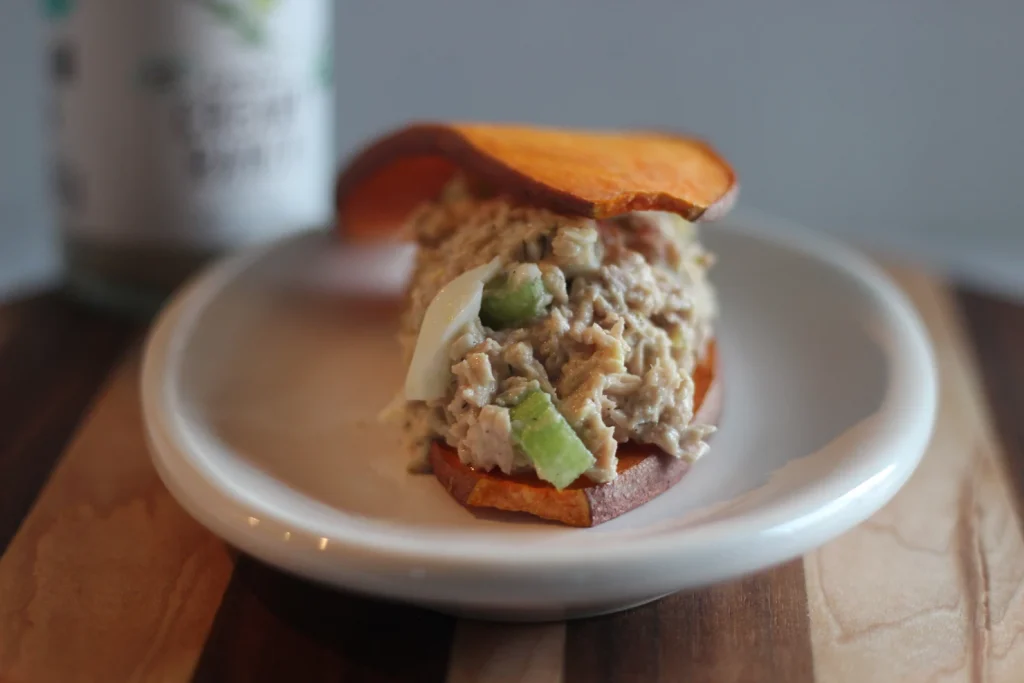 Tuna Salad on Sweet Potato Toast:
Ingredients:
· 1 can of your choice tuna fish
· 2 tablespoons Tessemae's Ranch dressing
· 1 celery stalk, chopped
· 1 hard boiled egg
· 2 slices of sweet potato toast
Directions:
1. First, you will want to make your sweet potato toast, when I make mine I do it so I have extra's to use for other meals. Slice your sweet potato's about 1/4 of an inch thick, cover a baking sheet with parchment paper. Lay the slices on the paper and spray with avocado oil (or oil of your choice). Put in the oven and bake at 425 for 10-12 minutes until they are fork tender.
2. While the sweet potatoes are cooking drain the tuna, chop the celery, slice the egg, and place all the ingredients in a bowl to combine and mix.
3. Once the sweet potatoes are finished layer the tuna salad onto the "bun" and enjoy!