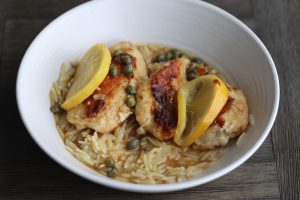 One of my very first meals I ever learned how to cook when I first found my love of cooking was Chicken Picatta. I remember someone making it on a cooking show I was watching, immediately printed it out and made it the next day.  That was several years ago and now I have adapted it to my own version.  There are so many different recipes out there but this way is our favorite.  Aiden who is very picky and would never try this before, tried it recently and loved it, he actually requested to have it again soon! 
Here is how I make it:
1 pack (about 1lb chicken tenders) salted on both sides 
3/4 cup flour ( or you can use the Bob's red mill 1 to 1 gf flour if you want it Gluten Free)
1/4 cup shredded parm
1 tbsp butter 
1 tsp minced garlic
3/4 cup chicken broth
1/3 cup lemon juice 
1/2 cup dry white wine 
Capers: This is an add your own amount type of thing because you can never have too many capers!
Cooked orzo
1.) Heat a large skillet with 2 tbsp olive oil, while the pan is heating up, mix the flour and parm then dredge the chicken through
2.) Cook the chicken completely through about 8-9 minutes and remove from the pan
3.) Add the butter and garlic into the skillet until it foams. Add in the chicken broth, lemon juice, and wine. Bring to a simmer and add in the capers. 
4.) Add the chicken back in and some lemon slices (optional). Simmer about 5 more minutes.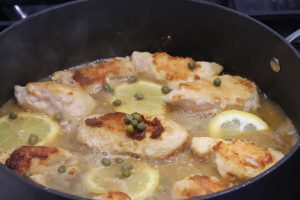 5.) Serve the chicken over favorite side. We like ours over orzo, with an extra squeeze of fresh lemon on top!