Caleb and I have been trying all of the local Iowa City area restaurants over the winter on our date nights.  We have found some that we just keep going back to, each for different reasons.  I decided to make a post with all of our favorites incase you are needing new places to try. These would also make great places to try if you are coming to the area for the first time and want to try great food and fun atmosphere.
Let me preface this by saying we both lived here when we were younger, I went to The University of Iowa and Caleb grew up in Iowa City and lived here until he left for the Navy in 2012.  Since moving back to the area we have found some new favorites that were not here before, some we tried whenever we visited and some old favorites that we will never tire of! 
We both like going out to dinner, trying new foods, and new beers.  We also love a good happy hour special, bonus points if it is kid friendly for the few times we have a family dinner out.  
Of note, these are in no particular order and we have just have been collecting them for a while to make this post.
I used to frequent Blackstone when I lived close by and worked at Hy-Vee, always my number request to go for dinner when visiting family during our time away. Some of our favorite menu items are:
–The Bubbly Mac and Cheese, this is hands down the world's best mac and cheese.  Made with 4 cheeses and served with crispy bacon baked on top.
–Flatbreads, we've  tried them all and they are all amazing and perfect for one person.  Caleb and I often share a flatbread and the Mac-N-Cheese.  We both also really love the seared tuna or seared tuna salad. 
I have never actually had anything there I didn't like, these are just a few of our favorites.  They also a phenomenal brunch on Sunday mornings!
They have happy hour specials everyday from 3-6pm 1/2 price martini's (so good) and 1/2 price draft beer.
Big Grove has something for everyone! Their large outdoor seating area, green space for people to enjoy in the warmer months, an area for kids to play, Cornhole boards and a place where you can bring your dogs to hang out as well.  Aiden loves going to Big Grove, he loves playing with other kids outside and he says they have the best cheeseburgers! 
We are big craft beer lovers, just give us a good hazy IPA and we are all set.  Big Grove has a ton of different beers on tap and are often releasing new ones.  Easy Eddy is our tailgating, golf, and our favorite overall.   
When we eat there we typically share a few appetizers because we love the Big Pretzels and Chips and Queso (so good).  Other favorites include the Philly Cheesesteak and Buttermilk Fried Chicken Sandwich.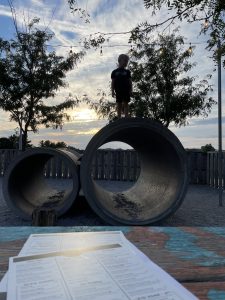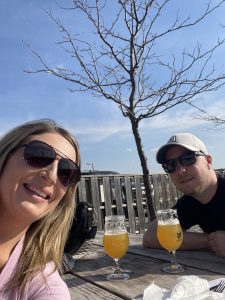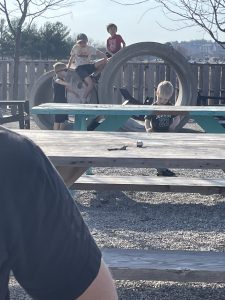 Red's is located in North Liberty but I have grouped everything in IC, NL and Coralville into one post. I have been going to Red's since it first opened in 2009, one of my favorite spots to meet a friend from Cedar Rapids for happy hour and they always have amazing beer selection on tap.  In the summer they have an outdoor space which is so nice, I love patio time and will eat outside any chance I get it.  
Caleb and I started going there almost weekly this winter for our date night, they have the best happy hour, 2 for 1 on drinks, beer and wine!
We have many different menu favorites here, and typically get something different each time we go.  This is certainly a shock for one of us who always gets the same thing… Caleb!  
When Red's first opened they had the most amazing Cheese Fries or Nacho Fries, I can't remember the exact name.  Fries, melted cheese, bacon, chives and jalapeño served with homemade ranch, they no longer have them on the menu but clearly I still think about them, haha.  Their homemade ranch is the best around.  
Now, we usually get the Bruschetta or Cheese Curds when we get an appetizer.  
Some of my favorite menu items are the Sesame Noodle bowl, gotta add some grilled chicken.  They also have really great flatbreads, we love the Buffalo Chicken, Balsamic Chicken and Spicy Thai Chicken. Caleb loves the Buffalo Chicken Sandwich which is what he gets at most restaurants, so he is a connoisseur of fine taste in Buffalo Chicken sandies.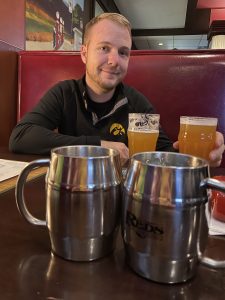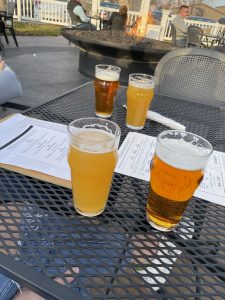 Another North Liberty favorite, Tin Roost. We frequented here last summer after golf for dinner. They have a huge outdoor space and live music different nights of the week.  They have a great drink and food menu which if you are from IA you will appreciate this,  they have the best Pork Tenderloin I have ever had, big and flat just like a wagon wheel. Caleb loves the Cuban Sandwich, or the Buffalo Chicken Sandwich (see the theme yet 😜). They also have an amazing brunch menu with $1 mimosa's!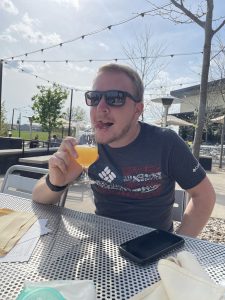 This restaurant is located in Iowa River Landing (IRL) area of Coralville. They have many restaurants and small shops nearby.  We went here a lot last summer because they have a cute little patio set up.  I always get the same thing, the Mediterranean Chop Salad with Chicken it's so good that I never need to try other things. Caleb usually gets the Cubano which he said is also fabulous.  They have happy hour 3-6 during the week! 
Another restaurant at the IRL, we love this restaurant for many reasons but our hands down favorite thing on the menu is the Brick-o-Mozza. We get it every time we go, it's basically a giant cheese stick with the best arrabbiata to dip it in!  We have also had the Wood Fired Pizza, Cacio e Pepe and Chicken Parm, all were excellent and highly recommend.  They have 1/2 priced drinks for happy hour from 4-6pm, they have a great selection of wine and beer!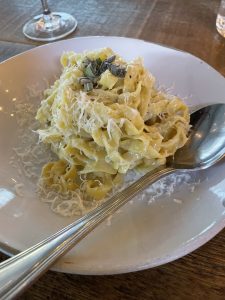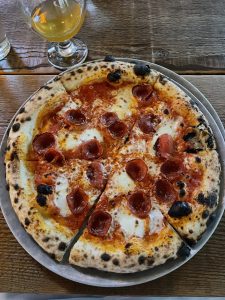 Located at IRL as well, Backpocket is a locally owned craft brewery. They have a large outdoor seating area too, perfect if you want to enjoy a beer and take the kids along. They often have special events and releases, all of their beers have the best names! We love to go here after dinner to chat and hang out trying different beers. During the week it's semi quiet and we can tuck ourselves into a booth for a while.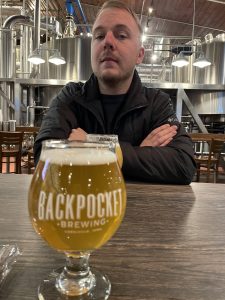 Another amazing Italian restaurant located in downtown Iowa City, they have Wood Fired Pizza that is great. I really love the Sausage and Orecchiette, Caleb loves the Chicken Alfredo and Crab Spaghetti. They have a great selection of wines and the atmosphere is quiet and moody, perfect for a date night! The service is always great here, never have to wait and the food comes out quickly!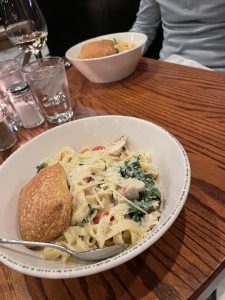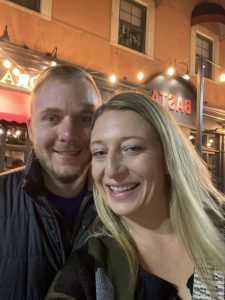 I will keep updating the list as we try more restaurants in the area and find new favorites! Comment below if you have any favorites that we should try!!