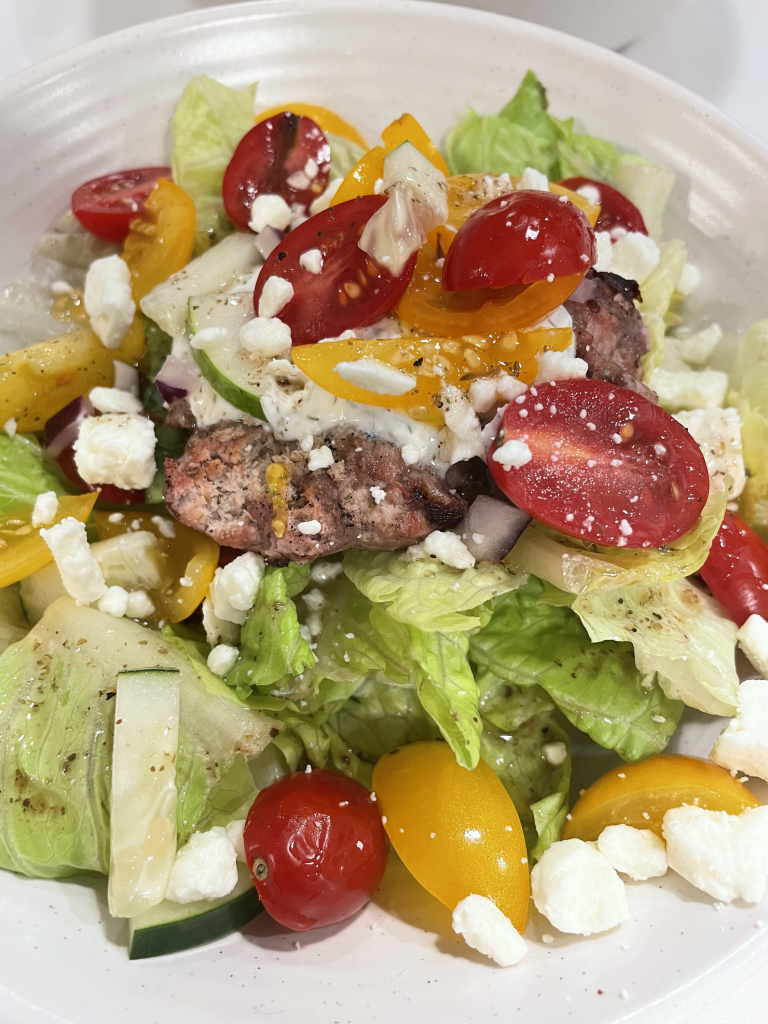 Let's just all take a moment to appreciate the beautiful colors in this Greek turkey burger salad. Trying to come up with ways to use up all of our garden goodies before they go bad but also really craving our favorite tzatziki sauce from @daddioskitchen (recipe on her website). Everything in this salad was so flavorful and really hit the spot before a thunderstorm rolled in. 
For the burgers:
1 lb ground turkey
1/4 cup chopped red onion
1 tsp fresh minced garlic
1 tsp dill
1 tsp oregano
pinch of mint
salt and pepper
Mix all together in a mixing bowl and make 4 patties. Cook on a grill or stove top for 8-10 mins
For the salad:
Layer bottom of a bowl with romaine, add the cooked turkey burger in the middle, add a smear of tzatziki over the burger. Top the burger and lettuce with chopped red onion, sliced red and yellow cherry tomatoes, match stick cucumbers, and feta. Drizzle the whole thing with greek vinaigrette, I use primal kitchen. I'm all about making life easier, so buying my own dressing in most cases is just easier.
If you try this please let know how you like it. Aiden was a little weirded out bc he loves a regular cheeseburger w/just mustard but we slapped this on a bun with mustard and he ate the whole thing, so will forever be hiding veggies in his burgers from now on.